Knowledge transfer "from lab to field"
OUR COMMITMENT TO TRAINING
OUR COMMITMENT TO TRAINING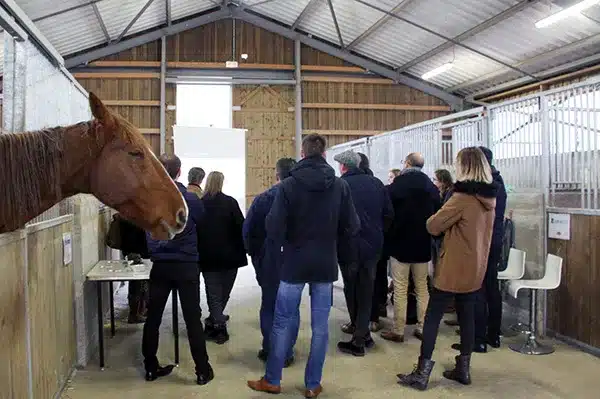 Lab To Field was created to facilitate the transfer of international scientific advances in animal nutrition and health to professionals
We operate in our areas of expertise and rely on scientific data published in refereed journals
We offer various educational formats depending on the event and the target audience; for example, conferences, lectures, and practical cases
Awareness: the first step for wise management
Sharing scientific data with professional stakeholders is at the heart of Lab To Field, which was created to facilitate knowledge transfer "from the lab to the field". We believe that thorough awareness of animal physiology is essential to reduce the risks of disease, lack of well-being, or underperformance.
All our training programs are personalized to meet the specific expectations of our clients.
Lab To Field trainers are all involved in research projects in topics they assess during training sessions in France and abroad.
HOURS OF TRAINING PROVIDED IN EQUINE NUTRITION
VET PRACTITIONERS TRAINED IN DIGESTIVE PHYSIOLOGY / PATHOPHYSIOLOGY
INDUSTRIAL TEAMS TRAINED ON THE RELATIONSHIP BETWEEN NUTRITION AND HEALTH
BREEDERS/TRAINERS EDUCATED ABOUT THE RELATIONSHIP BETWEEN NUTRITION AND PERFORMANCE
EXAMPLES OF TRAINING COURSES
Nutrition–health relationships in horses
Digestion and production in ruminants
Evaluation of athletic performance in horses
In line with the values of Lab To Field, the Congress LTF aims to disseminate scientific knowledge in equine nutrition and health.
This unmissable event for equine professionals is organized around three complementary days:
After the themes of fibers in concentrates in 2018, and functional additives and ingredients dedicated to equine feeds in 2021, the organizing committee has selected the theme of starch and sugars for the 2024 edition. This subject quickly sparks passion! It is central to equine nutrition and health, and it has been researched for over 30 years in Dijon.
We look forward to seeing many of you there to discuss this fascinating subject.
Starch and sugars in horse nutrition: common misconceptions, realities and perspectives ?